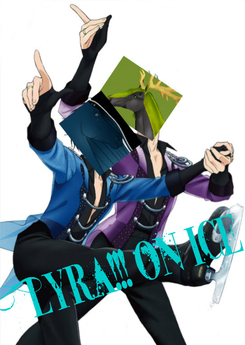 They had initially gone out with the intention of refreshing themself a little, maybe get a nice, cool drink. The rainwater they collected from the passing storms could only be tolerated for so long. There was just something that wasn't the same about drinking from a bowl as compared to drinking from a natural water source.

It just didn't taste the same.

Unfortunately, the world had other plans, they discovered as they curiously tapped a green-colored hoof against the frozen lake's surface. The clinking noise it made was quite curious. They put their hoof back down, snorting curiously and leaning further forwards to peer over the frozen water, eyes blinking as they took in the interesting happenstance.

Sure, they had traveled Novus and even a bit beyond in the time they spent wandering, but they had still grown up in Solterra, they were still someone who had been used to milder winters than these. They were hardly opposed to the colder weather, in fact, they loved it, but the effects it had on the environment were still rather fascinating to them.

Now, it wasn't as though Seree had never encountered ice before, because they certainly had. They had fallen on slick patches of it more times than they cared to consider in their blind travels, not having seen it as they stepped forwards. But a whole lake, frozen over? That was new.

Their reflection wasn't exactly very clear, not only in the warped surface of the ice but in the light dusting of snow that had fallen on top of it, rendering the slick surface with a sparse cover and a little more traction. Curiously, Seree wondered if the ice could hold their weight, and if the snow provided enough traction for them to walk.

Wouldn't that be something, to stand in the middle of the lake? Certainly a point of view they would never have seen before.

The horse gingerly set a single hoof down on the ice's surface, slowly pressing more of their weight onto it. The ice creaked a little, but not in a dangerous way. More like it was simply bending a little under the weight they pressed onto it, but not being damaged by it. Of course, they were still in the very shallow end, the rest of their hooves still planted on un-frozen ground. With at least one hoof firmly on the ice, the horse gingerly lifted another, and transferred more of their weight onto the frozen surface.

The light dusting of snow provided enough traction for their incredibly slow and steady movements to allow them to transfer all four hooves onto the lake's surface with no trouble. They could feel how easy it would be to slide about on the ice, but if they moved slowly and carefully enough, and kept all of their weight centered, they ought to have no problems. With that, they slowly began to walk towards the middle of the lake.

The ice made no more protests as they moved forwards, Seree slowly measuring each step and transferring their weight slowly as they tested whether or not it could hold them. So far, so good. They began to feel more encouraged, steps speeding up.

But not enough for them to fall, not quite fast enough for that yet.

In time, they came to the center of the lake, the horse looking out as all sides were now visible at the same distance. Wow, this certainly was something. They momentarily felt their breath taken away at the view they'd never seen before. It was enough for them to paw their hooves at the ground with excited energy, and that was how it all started.

Seree pushed against the ice with one of their back hooves, not really intending to do anything by it, but quickly discovered that they pushed themself forwards. Just a few inches, but enough for the horse to lurch and nearly lose their footing, bring their hoof back down quickly and pressing their hooves into the ice for grip. Their legs wound up a tad bit splayed, but they stopped, the frost helping them not to fall.

Their heart had leapt into their throat at the unexpected skid. Well... that was something. They nervously shuffled to get all four hooves back underneath them, firmly this time. In and out, in and out, they forced themself through several deep breaths to try and calm their racing heart.

When they had themself back under control, their natural curiosity got the better of them. They gingerly raised their back hoof again, and pushed themself forward, just the slightest bit. Seree felt a childish giggle building up in the back of their throat as they moved forward a little bit again, more stable now that they knew what to expect.

But of course, the confidence went to their head.

They pushed to hard with their other hoof, and moved too quickly for their body, unfamiliar with the movements. They scrambled, trying to find their footing again, but unfortunately finding themselves sprawled out on the ice moments later, groaning quietly. They managed to roll over onto their chest and raise their head easily enough.

Well, that was a bit unpleasant. But it didn't hurt, not too bad at least.

And, well, that had been rather fun. Maybe if they just took it more slowly before speeding things up...

Suffice to say, they had inadvertently discovered a new way to play, and Seree was very excited to keep trying it out.
@Lyra
OOC: Don't stop them now, the moment of truth, they were, born to make history. For Seree and Lyra but anyone else is welcome to come join the fun as well. :D