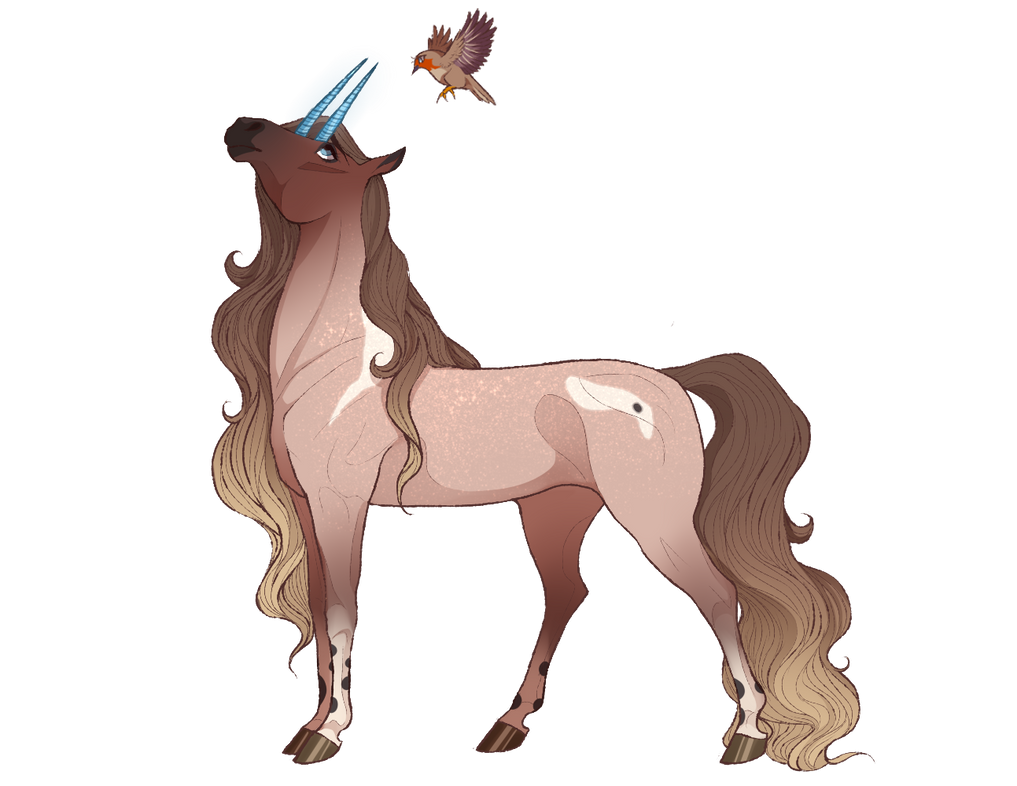 Though she would never accept such a statement, Sabine possesses great beauty. Let us begin with her skin, the colour of which can be defined as a gentle rose blush - lighter over the central part of her body and darkening into a deeper colour toward the edges of her limbs and head. The very tips of her legs taper into a pale bone-white, and dotted upon all four are circular patches of brown. One of these brown spots can be found upon a patch of white laid upon her left hip, one of two medium-sized white markings: the other being present upon her left shoulder. Sabi's hair is a different shade, one which could be likened more to blonde-caramel and fades lighter toward the ends. It is long and gently waved, and she tends to keep it upon one side, often finding herself hiding behind a long sandy forelock. Her body itself is not overtly delicate like her mother before her, but neither does it possess the powerful masculinity owed to her father, instead Sabi falls between the two; lithe, athletic and nimble. She stands at a reasonable 15.2 hands; small in comparison to her parents. With eyes the colour of a piercing winter sky, perhaps her most striking feature is that which matches this glacier-blue: the two glasslike horns upon her forehead. Crystalline and brilliant, they protrude just over a foot from her skull, and though Sabine is not one to draw attention to herself, she cannot deny that they hold a certain charm.

Brave. Ethereal. Lonely. Anxious. Adventurous. Shy. Morbid. Clumsy. Reposeful. Conflicted. Resourceful. Gentle. Honest. Independent. Protective.

Sabine, borne from a tale written by both the sun and the moon, is a girl of great perplexity. Within her heart there is no one path nor habit that should seem easier to take than another; no star for her to follow in the darkness, no set moral compass, only an inner indecisiveness that is as wide and as wavering as the ocean. It is her natural inclination, simply, to wander - keep moving, do not wait for the tide to bring the promise of hope when you are more than capable of rushing forth to meet it - and this lust for freedom seems to transcend any anchor of worship or court alliance. Such pale insecurity was cultivated in her youth: caught between two powerful kingdoms, finding herself lost in the middle ground where there was nowhere to truly call home. The Sun and Moon children alike refused to open their arms and claim her as their own, and in this myriad of uncertainty and malice, her anxiety was born.

Sabine's sense of self is opaque, obscure. She does not belong, and it will take many years yet for the girl to realise that this, in itself, is okay. For now, she is a messy canvas of blues and reds and purples and yellows: all the colours of the rainbow to sing the song of her pain. She is wary of those who attempt to share her space and her heart: for who could love the chaos within? Who would want to befriend her, only to become lost within her labyrinth of ethereal sadness. For she is a whimsical creature behind a pragmatic shield, a child conflicted by dream and adventure and the fantastical miracle of this universe.
BORN ON SITE.

Mother: Rhoswen, of Day Court

Father: Raum, of Night Court





THE LITTLE BIRD; THAT WHICH SPEAKS TO THE DEAD



PARVUS MAGIC:
Upon reaching Tier 2 and above, her eyes transform from glacier-blue to a thick milk white when communicating with the spirit in question.

TIER 1: DISCIPULI
It is a fearful thing throughout this initial stage. At first she feels perhaps she is losing her sanity; what else could explain the muffled humming, the eerie whispers and the feeling that she is often being watched by a presence she is unable to see. In the very beginning Sabine can only feel disparities in temperature when the spirit is near: this will often depend on the aura of the deceased individual, for some will burn her skin with a flushing heat and others will turn her blood to ice. This is at times accompanied by an overwhelming anxiety. Later on within this tier, Sabine's abilities begin to enable her to discern other indicators of the spirit's company and these include but are not limited to: smell, indiscernible sounds, taste, light/darkness and (most rarely) discernible words. These experiences are unfailingly short, and sap her energy almost entirely. She is entirely unable to initiate contact, and is always at the mercy of the spirit: it is up to them whether they wish to attempt interaction or not.

TIER 2: VEXILLUM
At the second Tier Sabine's magic has become more honed and controlled. Now she is able to begin ascertaining just who exactly is trying to communicate with her through an evolved level of intuition and sensation. Now the inexplicable phenomena does not scare her unless the spirit is particularly malevolent, though the feeling of helplessness prevails; she still cannot regulate when the spiritual episodes begin or end. In this stage, her Parvus magic reveals itself for the first time; often unsettling those around Sabine. She is able to hear sentences now instead of single words, though they often remain broken and disjointed. Similarly, other indicators become clearer and less distant than in the first stage. Episodes now last between five and ten minutes.

TIER 3: PERITI
Now an advanced medium, Sabine is at last able to summon the attention of spirits - though if they are particularly resistant this will still drain her energy reserves quickly. The dead are able to present themselves to Sabi through whichever means they see fit, often flooding her body with their own emotions; this can be particularly distressing if it is that which the spirit experienced in their dying moments. The most significant development, however, is most certainly her ability to see the faded physical form of the spirit. It is barely visible, and lasts only a few minutes, but it is there. Other, more developed interactions such as the transmission of conversations between Sabine and the deceased individual may last up to two hours, though she must recover for a couple days before she is able to bridge the spiritual world once more.

TIER 4: DOMINUS
Sabine has now mastered her magic completely. She is capable of all of the above, and more. At this level Sabi is able to communicate openly with any spirit, and is often able to see their physical form for an extended period of time. She is confident in her abilities and fully accepts her role within this world as a translator and empath for those who can sound their song no longer.
---
---
---
---