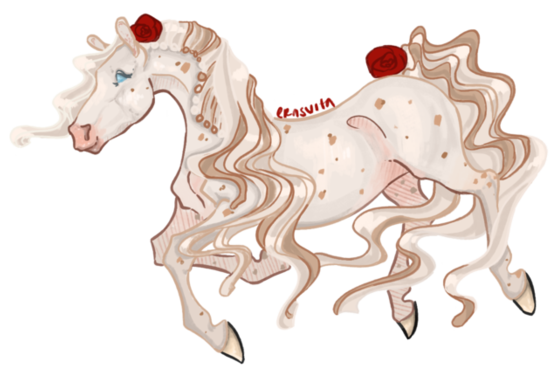 girls of satin, girls of stone
girls in dresses made of bone


♕

A
raven's piercing cry echoed through the starless night, and Messalina shivered despite the strange balminess of the air. It was deep into autumn, yet the day had been stiflingly warm. Messa's brow creased when she remembered how the roses on her mantle had drooped, despite being picked that very morning.
Is it childish to believe in omens?
Omen or no, she should not have ventured into the woods so late in the night. "A fool's errand," she murmured, stepping carefully around a blackened stump.
A fool as the Champion of wisdom.
She smiled at the thought, a little bitterly. 
They had extinguished the fire weeks ago. Yet, the stench of burning still clung to the bark of the trees, dulling the scent of all other things. The wildfire had devastated more than just the land. More than once had the girl stumbled upon the remains of animals who had perished in the fury of the flames, the reek of rot concealed beneath a layer of ash.
A charred wing, a crumbling skull.
Once, she had discovered the body of a fawn folded beneath the hollow of a twisted oak, its waxy eyes great black holes. She had buried it in a grassy clearing and placed a white rose over the freshly turned earth. Then, cheeks hot with disgust and shame, she'd fled all the way back to the castle gardens and emptied the contents of her stomach into an abandoned flowerpot.
A breath of cold wind gusted through the leaves, rattling them like teeth. Messalina inhaled once — then again, sharper. It was only a trace, but there was no mistake. Her eyes flashed like chips of ice when she turned towards the gust.
This is the smell of…
click for full post
---
---
@any | "speaks" | notes: -dies-
rallidae | erasvita
---