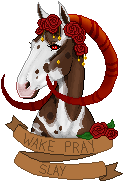 The streets she walked we're hers, thoughany might disagree. These seedy alleyways and dimly lit corners, the shifting stares belonging to the less than favorable, they were all hers. Vendetta's is a queen among peasants, a good among mortals, and her hand is the hand of Justice and her voice the law.

The unicorn walked like she owned the streets, too. With every step her hooves beat down on the sand, her skirt flowing out behind her like a blood stain against the golden sandstone. Those who knew her or her reputation avoided her eyes and gave her a wide berth. The lucky ones that tried to offer her a hello we're ignored. She was above them all.

Perhaps even more unsettling than her presence alone was that of her bonded, trailing along behind her. Azrail was a shadow of death, tall and gaunt, grim and unnatural. But Vendetta did not have time for their stares or useless pleasantries. No, she had somewhere to be and business to take care of.

Solterra's blackmarket would not run on its own, or if it did, it would not run as smoothly with her at the helm and on her ship everything was run with an iron fist. If they did not bow to her now she would bring them all to their knees eventually. One way or another.

Open to anyone!

sycophants on velvet sofas
lavish mansions, vintage wine