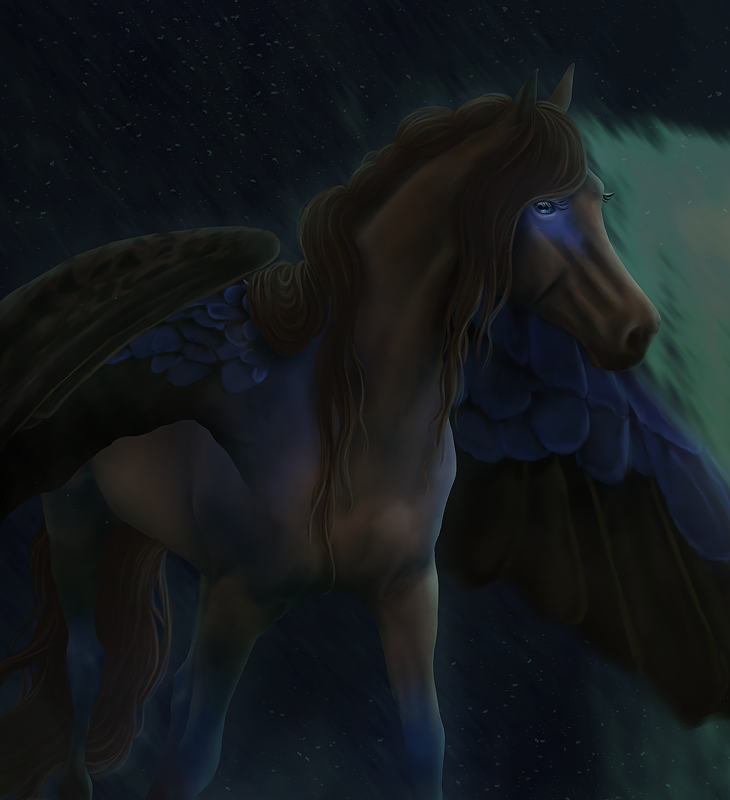 There is an easy silence which falls between Mephisto and Huntington.  Neither one appeared to be an outgoing sort, which could have added a tone of awkwardness to their journey, were it not for the comfort of having another about.  For though she did not mind being alone in the slightest, Mephisto was wise enough to know that there was safety in numbers.  With talk of war on the rise, and strange magic in the forest, it was inevitable that danger was only a heartbeat away.  If anything, Huntington seemed ready to fight if provoked.  Time would tell if the dark Pegasus could trust the white-faced mare, but for now, there is a simple acceptance and gratitude for the the company.

Their journey was not an easy one, for the gods would make it difficult to summit their mountain.  High into the heavens it stretched, and though they began their trek in a world bathed in moonlight, it quickly grew dark as shadows gathered to coil about the silver moon.  Now, there is barely a swath of light as they stumble their way through the winding path to the top, stopping from time to time to gather their bearings.  Onward and onward they press, with a singular purpose in mind... to summit, and to meet the gods of Novus.

While it was true that she could have simply flown, there was no true gain in that.  With her feet firmly on the ground and her wings pinned beside her, Mephisto was much more able to understand the land and take careful observations of the world around her.  She noted every rustle in the brush, every crack of hoof against rock.  Though the two are alone in their trek, eyes are watching their every move.  Whether it was a predator, an owl, or simply the chirping ciacadas remained to be seen.  More than that, she knew that the gods were watching from whatever perches they viewed the mortal world.  That alone is reason to keep on.

Summitting the top, the dark Pegasus stilled and looked around.  It wasn't much to witness, but she wasn't sure whether she'd expected grand temples or simple stone statues.  What she found was something in between.  Four obelisks reached toward the sky, some more crude than others.  The loyal had been here, placing their baubles about and saying their prayers to the deities whom they were called on to worship.  As she looks from one to the next, a brow quirks as she notes Vespera's own monument to be visibly barer than the rest.  A testament to her betrayal, no doubt.

Still, it is evident that this is a sacred sort of spot.  Even the winds seem to hush as the two mares walk quietly among the stone circle.  She does not offer a token of her loyalty, not yet… for Mephisto refused to worship such gods if she knew nothing about them.  That, and she needed to hear for herself what Vespera had done to earn such disdain from her people.  She is still reverent though, waiting beneath the moonlight with a subtly ethereal aire about her.
@
Huntington