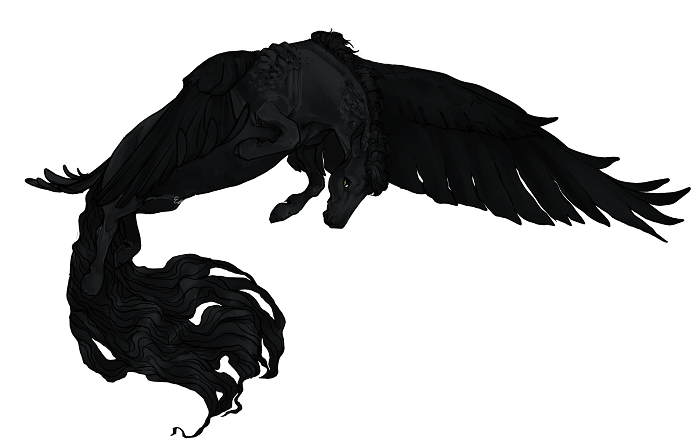 Mateo paces the great hall restlessly.
The first snow of the season had caught him unaware,
again
. It always seemed to do so. If he had known it was coming, he would have hurried to the library, for a prison of books is not a prison at all. Instead he had been sleeping, and he woke up to a world of white.
The worst of it had passed but it still was coming down lightly and he could not go out without getting snow in his wings. The snow itself was not the issue, of course, and neither was the cold. He just hated getting his wings wet, and snow-covered wings eventually turned to water-covered wings. It
always
happened, no matter how much he shook before coming in.
So he paces. Rhythmically, of course, so that the ring of his steps on the stone floor sound like a song waiting for words. But to his annoyance the words don't come.
Eventually he stops beside a large window and peers out across the field. It is still snowing, just like the last time he checked. The stallion huffs with impatience and the window fogs up defensively. A moment passes. Thinking happens.
After another moment, He blows the cold window until a foggy veil covers one corner. He plucks a loose feather from his wings and uses it to write on the glass, reversed so that from the fields someone would read:
H E L P !
He laughs to himself, more of a cackle really, and quickly rubs away the message just in case there
was
someone outside who could see the message and become alarmed. After all, there
is
a murderer on the loose, and a harmless prank in times like these could easily cause panic.
---
@
Mesnyi
I hope this is okay!
art