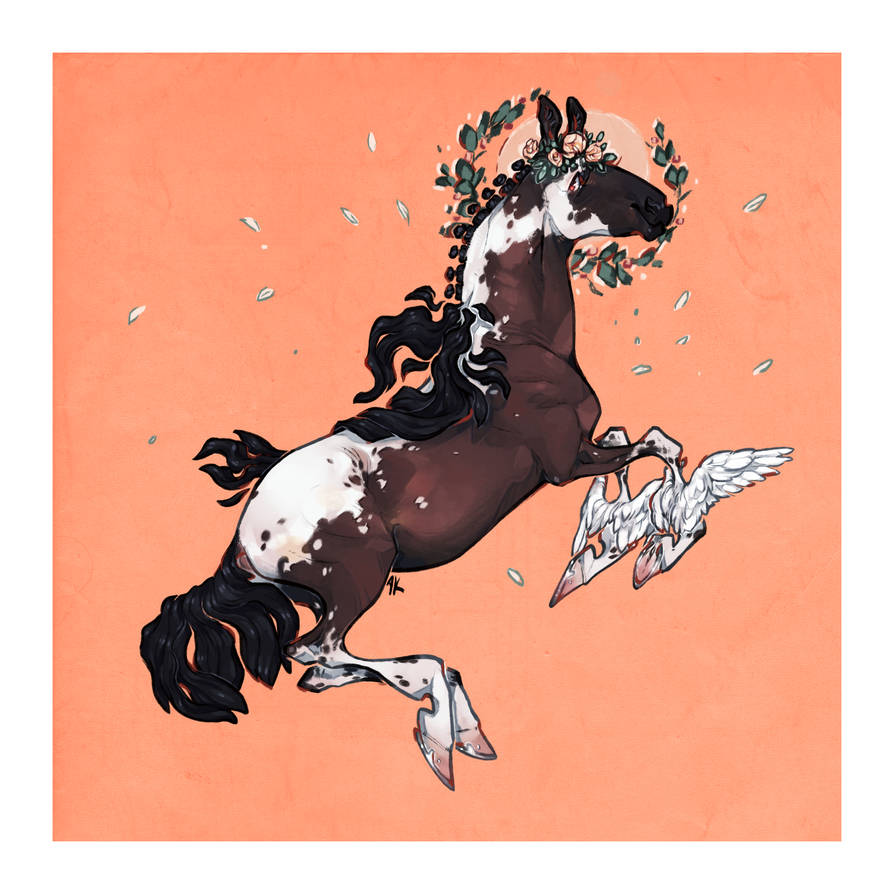 flowers grow back
even after they have been stepped on
---
Winter had settled in across the court, bringing with it a cold front that seemed to seep into Ipomoea's very bones. It had become more and more tempting to stay inside by the fires, to wait out each snowy day until the sun brought back spring. The cold had already driven most of Delumine's residents indoors.
But the sudden desertion in the streets was unsettling. Aside from a few groups of children having their traditional snowball fight, and a couple tucked against one another as they wandered the capitol, Delumine was quiet.
While not inherently unusual, Ipomoea found it worrisome all the same. So leaving the warmth of his hearth, and bidding one last goodbye to the stone bird sitting on his mantel, he opened the doors and greeted winter.
The cold took his breath away when he first stepped out into the courtyard. The appaloosa paused for a moment, staring up into the grey sky. But then he grit his teeth and, wrapped his slender wings tightly around his fetlocks, put his head down and braved the brewing storm. A few flakes of snow had already begun to drift down and settle on his pale back by the time he reached the tavern.
He wasn't going to enter - Ipomoea had never been a common face at the bars, the drink and noise and lack of inhibitions had always turned him away before he reached the door - but from inside came a sudden roar of laughter, and as the door swung open he could see the light and warmth coming from inside. He hesitated, watching them all. Indecision turned his stomach into knots, as the young sovereign swallowed thickly.
And then with one last glance over his shoulder, he pushed open the door and entered the tavern (possibly for the first time in his life.)
"Hello," he had to work to keep his voice from trembling, to ignore the sideways glances the patrons and bartender alike gave him. "A water, if you please."
The bartender nodded, unable to refuse, and set the glass down before him.
And as he sips his water and listens to the noise of the tavern all around him, he begins to wonder whether he should have stayed outside.
@
Ipomoea
open to any!
---