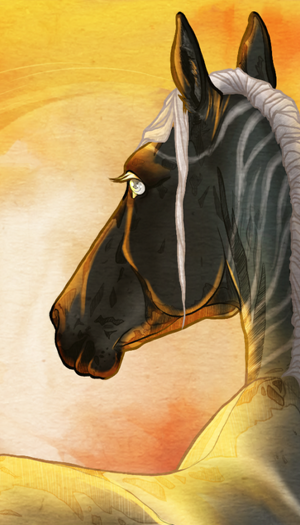 WOULD THERE WERE A FESTIVAL FOR MY FEARS
a ritual / burning of what is coward in me, what is lost in me. Let the light in / before it is too late.

It is not too dark. Still: she feels that she is stumbling half-blind.
Ereshkigal has compared the caves to hell. That is hardly how she sees them, she said; they are far from the bloodiest place on Novus's soil. The demon laughed, then, and she told her that it is all in the scent. Moist, cold soil and the persistent stench of decay, of hungry worms and growing fungi. The invasive, all-encompassing stink of the grave.
She pools out from a narrow passage and into a wide cavern encircling an underground lake, and she tries to think of anything but dying.
The walls are lined with torches, each lit by some unnatural flame. She has seen all colors of fire since she began her descent down, down, down, into the stomach of this dark labyrinth of caves. These are pale blue, darkest at the wick, and they paint the cavern the same shade of blue with their touch. In the presence of their light, the lake is a blue that seems depthless and strangely clear.
She walks to the edge of the water soundlessly and thoughtlessly, unworried by the slick stones that line the water; her hooves, propelled by magic, hover off the ground, and her hair is unbound by braids and swirling behind her in a great mass of white, and she barely notices either. (Her magic is a hungry maw, and she barely expends the effort to control it, anymore. Who is there to shield from it but herself? Ereshkigal welcomes the destruction, all the broken mirrors and stones, and, when she stumbles and cuts herself - if she stumbles and cuts herself – she can bandage the wounds on her own.) She leans over the edge, arching her neck, and she stares down into the clear, blue darkness of the water.
She can see the bottom. Dark, mottled stone, and eyeless things; their skin is the near-transparent, sickly white that covers most creatures that never see the sun. She feels that there is some twisted metaphor to the sight of them, some ugly symbolism about what comes from living in the dark, but Seraphina can't find it in her to piece it together. Behind her, perched on a jagged outcropping of mineral-slick rock, Ereshkigal gives a rattling, verbal laugh that echoes and echoes through the caves like a roll of thunder. Seraphina hears her shift, her talons scratching against the rock; she hears the ruffle of her feathers. "You're always looking for meaning in useless things," the demon hisses, her voice scratching against the inside of her ears like ants. "Stupid girly. You won't find it."
Since her return from the grave, she has been searching – ravenously - for something that she cannot find a name for. She knows that she won't find it among the axolotls and the salamanders, among the skeleton-fish. She knows that it probably doesn't exist; but accepting that means that this has all been for nothing, all of this, that there was no greater meaning to all of the ways that she suffered and all of the ways that she allowed her people to suffer, and she is not sure if that is a cruelty or a kindness.
Regardless – if she accepts that it is true, she will really have nothing. She cannot live with that. (She is barely living as is.)
There is a sound from behind her – the click of hooves on stone - towards one of the many passages out. (Whether it leads somewhere deeper or towards the surface is hard to say; she is sure that it is not the one that she came through.) Her ear flicks back, but it takes her a moment to turn her head – her gold-scarred cheek turns to the approaching figure, glinting oddly in the flickering torchlight, and her multicolored gaze moves to light on someone she can almost recognize.



---

@

Renwick

|| <3 ||


"Speech!"

||

"Ereshkigal!"




@
---

I'M IN A ROOM MADE OUT OF MIRRORSand there's no way to escape the violence of a girl against herself.☼please tag Sera! contact is encouraged, short of violence