"The summer day never knew such shame as to look upon the child of sun and flame."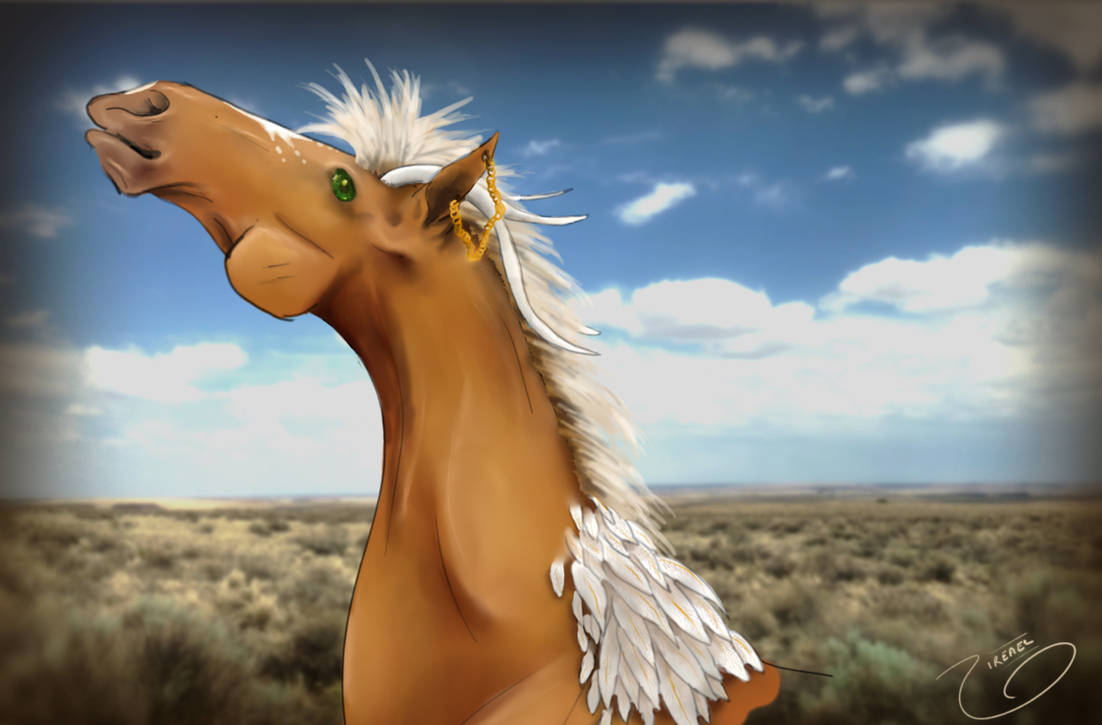 Framed as a forever trapped lanky youth, this miscreant keeps a trim figure, whether lifestyle or genes no one can quite determine the reason. He's tall, and though muscled enough to keep up, he will never be mistaken for someone's knight in shining armor. Sharp lined face and jaw give away his ancestry, with just the thinnest muscle mass pulled taunt over the rest him to hint at some mingled heftier blood other than the dominate porcelain. Over his frame poured a burning sun, firey gold, rich and in the tricks of light near burnished and metallic. It is not pure however, as if his soul was peaking through, the gold tarnishes at the ends, stained the lightest brown at his knees and top line. As if he did not stand out enough, a burning white was drawn boldly down his spin, and three bars sweep across his hips, tipped in several fading small dots. A head matches with a narrow strip running down its sharp plane, and feathered at the top like a stalk of wheat into five points, each with their own crown of dots. And as if the painter had one final laugh, a small snip rests at the end of his nose, like a drop of misplaced paint.
He might be able to slip through shadows unseen if that was all, but fate didn't want it to be that easy. His mane and tail are full, traditional, and brilliantly white, and topped with the cherry of accessories in the form of horns and feathers. Nestled at the crown of his head, nearly unseen, rise and curl twin horns. They rise from his poll and fold back, just barely at the height of his ears (tipped here with a small splinter), then dip down, before curling back up in sharp points. They rest near the crest of his mane, like hidden daggers. Finally to prove he was ever a richly blooded mutt, feathers nestle in at his shoulders and the dock of his tail. Small clusters, no more than a few inches in length and ridged with gold at the center. They are useless for any form of flight, but serve as a touch sensitive nuisance, often giving away his emotions with slightly articulations. There's only one mar to this otherwise lovely picture, three lighter lines on his chest, a cost of naivety paid long ago.
"Flowers and poetry dropped dead at the sight of a cold mortal body in the winter's morning light."
Build: Akhal-Teke xXx Spanish Light
Height: 17 HH
Age: 3.5 years (Summer)
Coat: Rich palomino, near chestnut, light smudges of brown at knees and back. Richly firey yellow.
Body Markings: White dorsal stripe, hip bars three each, the hips have white dots trailing the end.
Facial Markings: Snip at the end of his nose and a narrow stripe with fans out at the top into 5 spearheads. Ending in two dots each, the center, three.
Eyes: Dark green, like the dark rich northern pine forests
Mane: Short but growing. Cut recently, still stands straight up mostly, though beginning to lie again.
Tail: Full, white. White feathers cover the roots of his tail.
Hooves: Light Gray, normal.
Horn: Twin horns from his poll which roll up but immediately back, then curve back up in a tip. A second, smaller at the height of the first curve. When head it at rest, sits nestled in his mane.
Scars: Three are visible, though his known the taste of his own blood. These are on his chest center, lighter gold, and lacking the shimmer of the rest of his coat.
Additional: A cluster of white feathers around his shoulders, small, no longer than a few inches at most. Gold central ridge.