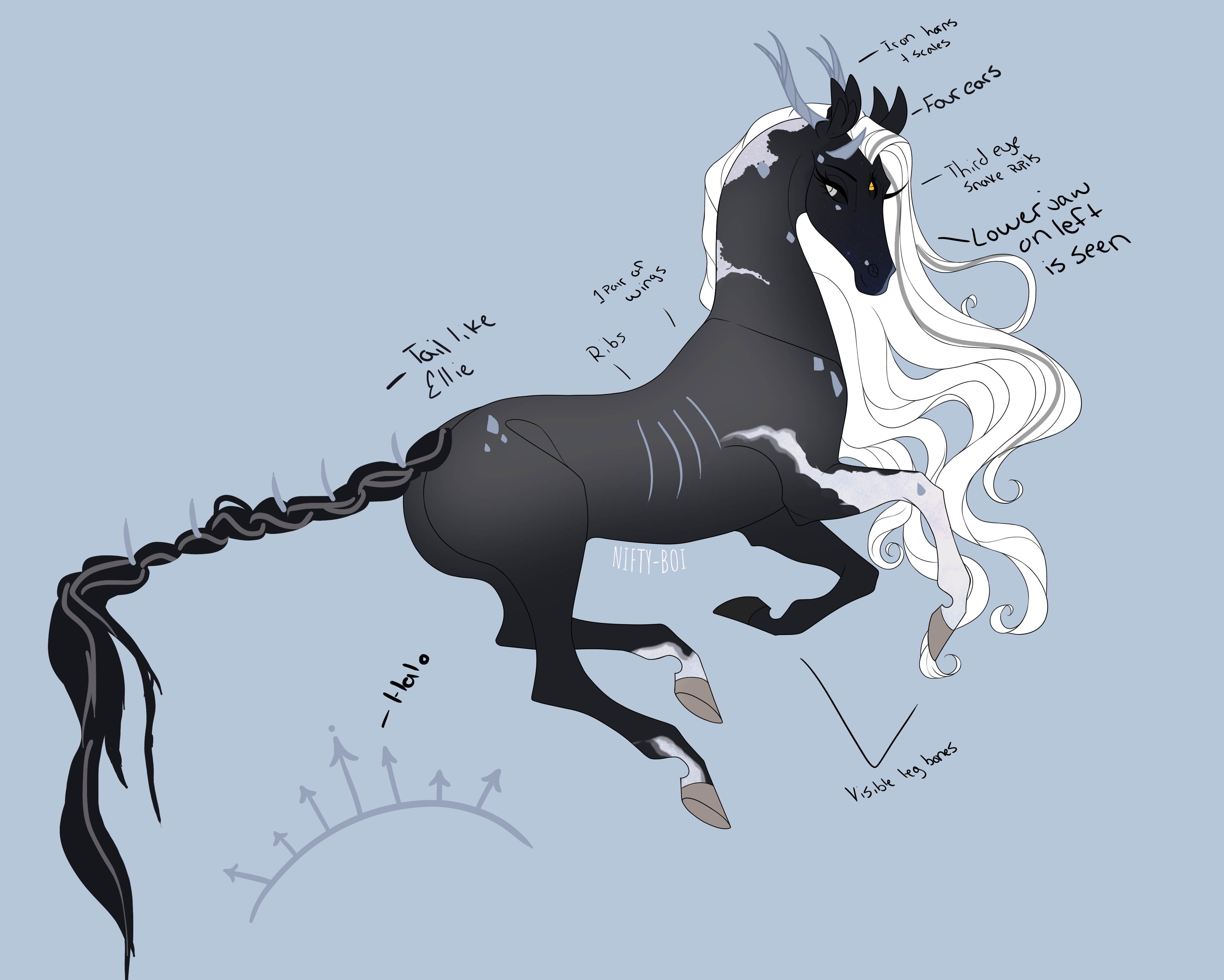 "Soren Avelaine Giauzar"
[Soar-in] [A-vuh-lean]
"Soren" "Rin" or "Lee"

● Warmblood Mix
● 19hh
● Leonine tail with spikes
● Large leathery wings, iron claws
● Two sets of horns - totaling four also made of iron
● Scaled with iron as well
● Leg bones, ribs, and lower jaw on the left half of her face are visible
● Three eyes - two silver and one gold
● White and grey mane, black and grey tail
● Halo like Reliquary and Seraph
● Dark colouring with white markings, white markings and face have a starry appearance (Inherited from mother)
● Large fangs

Soren is a contrast to her sister, she is dark in her base colouring though her body does fade around her midsection and back to a lighter grey. In Soren one can see the prominent influence of the markings on her maternal side with her neck having two jagged white markings on the top, both back legs having white socks, and her right front leg having a jagged stocking. All of her white markings, as well as her face, have a star like appearance; though it is not as prominent on her face you can clearly see it on the white of her body. Like her father before her you can see parts of Soren's body, primarily her ribs, front legs, and the left side of her lower jaw. All of these bones match the iron scales, horns, spikes, and halo that adorn her. Born with four ears and four horns as well she has one set of horns placed behind her ears in a near perfect replica of her mothers while the other set is placed above two of her three eyes in a curved like fashion. In mentioning her eyes one should note that the middle is golden like her fathers and the other two silver like her mothers, all three have the pupils of a snake and black sclera. In terms of Soren's hair her mane is long and wavy in a white colouring with dark grey streak running through it (perhaps harkening back to her great-grandmother Io Kairavi) while her tail is leonine and nearly always braided, in colouring it is black and streaked with the same grey of her mane. However like her father her leonine tail has spikes, five to be exact. Soren also inherited her fathers wings just as her sister Seraph did, large in size they match her colouring with the clawed tips being the same iron as well. Hanging above her head she is proudly adorned with a halo that has seven ''spikes'' upon it, all of them are shaped in the same fashion that one might see on the gates of a cemetery; the tallest of them, in the direct middle, has a small ball above it as well. Not only is Soren the oldest of the twins but she the tallest as well reaching 19hh at maturity. Like her father and sister she has rather large fangs.
Stash Gallery | Moodboard