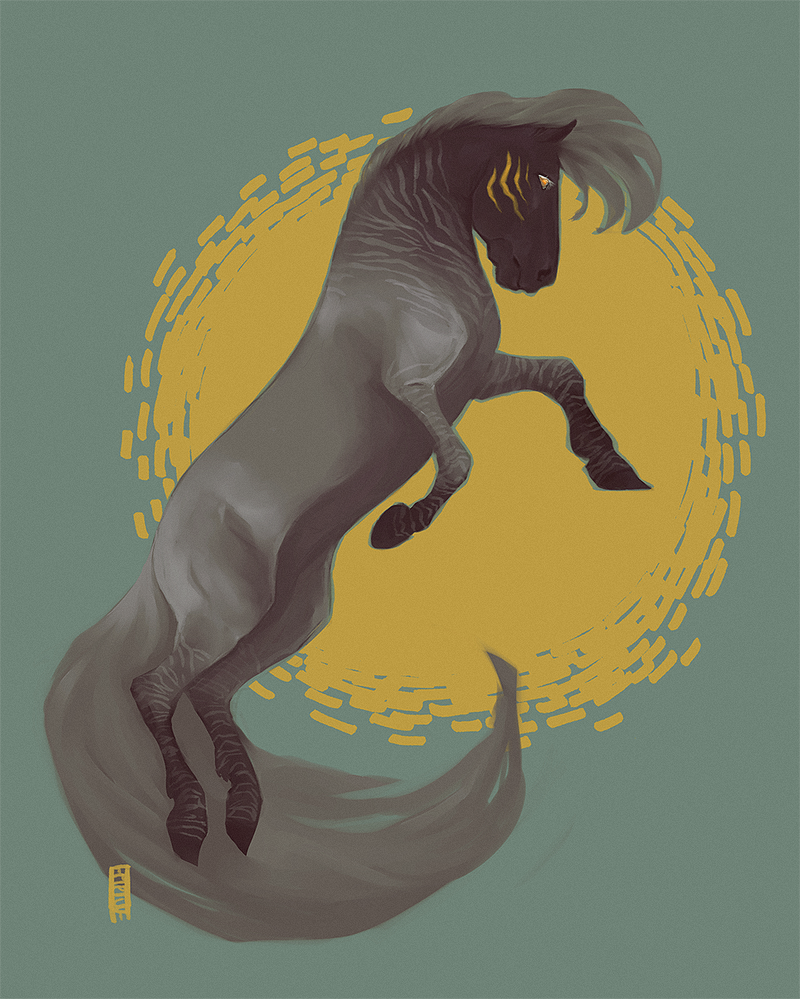 IT'S IN THE CURVE OF MY RIBCAGE


When she was a child, Seraphina did not know what a forest was.
She was nearly – she thinks – a year and a half old before she'd ever left Solterra. Before that, forests were the stuff of stories, the kind of thing that her mother would tell her about at night when she was trying to convince her daughter to go to sleep. (The roof was broken, in their makeshift home; she wasn't even sure that her mother earned it, looking back. She didn't remember where her childhood home was, but she didn't want to. She didn't want to go back. She could see the stars, through that hole in the roof.) Viceroy didn't talk about forests. There wasn't a point to it; her world began and ended with the merciless expanse of desert heat, with the monsters that lurked in the sand and in the city. She had no time for make-believe horrors, strange beings that lurked between trees in vast swathes of green that she could hardly imagine. (Occasionally, she struggled to imagine the color, in that sea of dull browns and golds – it was like eyes, sometimes, she'd tell herself. Like Teiran's eyes.) If she'd had more choices, Seraphina thinks that she might have liked to explore the world. Novus, at least. Perhaps she'd even have travelled beyond the borders, to distant lands that she'd heard about from sailors and travelers. That was one thing she liked about being a guard; all the stories she'd hear from foreigners.
Now, that was a distant, nearly-forgotten dream. She was bound up with that desert, whether she liked it or not, and, even if she left it, she doubted her soul ever would.
When she was a child, Seraphina did not know what a forest was. Now, standing amidst a swarm of countless pines, she wishes she'd spent more time in forests – even with Ereshkigal circling above, a blot of darkness against a cloudless, robins-egg blue sky that she can make out in the patches through the branches, she feels disoriented. The trees are tall, taller than any she's ever seen, and they seem ancient. It felt like only moments ago that she was walking through growth that must have been new, saplings -
But, if she turned to look at the world behind her, she saw nothing but those ancient trees, extending endlessly towards the beach.
There was no point in going back anyways, even if the landscape seemed to be changing behind her – she tells herself that it is no more unusual than the maze, and, at the very least, it seems less overtly threatening. She is trying to reach the more central parts of the island, to see what lies beyond the treeline. Seraphina doesn't expect to find Raum there, or Caine, but she suspects that it is as good a place as any to start looking for Tempus. Hadn't she found him near the center of the maze, last time?
(Really, she had no way of knowing where the center was, because she'd never understood the layout of the maze, but it had felt as though she'd gone deep, and surely that meant moving towards the middle.)
Abruptly, Ereshkigal's voice rakes at the edges of her mind.

"I see a clearing ahead – if you just keep walking."

She sounds like she is taunting her, and Seraphina feels a sharp prick of jealousy for wings. (But Viceroy would likely have cut them off, if she'd had a pair. He did that often, to the pegasi. They were burdens in direct combat.)

"It looks strange. Full of spines."

The demon's voice shudders with glee, and Seraphina frowns. Full of spines?
When she passes through another sheet of pines, however, Seraphina discovers what Ereshkigal meant. To her, the "spines" look more like teeth; the clearing surrounds a pool of still water, surrounded on all sides by long, sharp spires of stone that are three or four feet high and prevent easy access to the pool, like a gaping mouth. She isn't sure that she'd want to approach it even if the spires weren't in place. The water is milky, coated in a thick layer of something off-white and slick, and a cloud of mist hangs over the surface, barely spilling over the stone barrier and into the rest of the clearing.
Biting back a grimace, Seraphina takes a step forward, drawing out of the trees. The plants around the water are browned and withering, their flowers drooping; she wonders if there is something off about the fog and elects to keep her distance for the moment.
The beat of wings above her reminds her of Ereshkigal, who, with a swish of feathers, comes to perch on her shoulders. She leans forward, eyeing the pool, and licks her lips.
Near the center of the water, Seraphina thinks that she sees something stir.




---

@

Charlotte

|| so excited to thread with the bby <3 || "distillery," maggie woodward


"Speech!"

||

"Ereshkigal!"




@
---

I'M IN A ROOM MADE OUT OF MIRRORSand there's no way to escape the violence of a girl against herself☼please tag Sera! contact is encouraged, short of violence