Fight Type:
Battle
Prize:
None save standard Experience, this is a battle for Theodosia's promotion to Champion of Battle in Dusk Court.
Contact Made:
Yes.  
Character #1:
@
Israfel
Bonded:
Yes, Solaris the Phoenix.
Magic:
Yes, Pyromancy at Vexillum tier.
Armor:
No.
Weapons:
No.
Current Health:
22
Current Attack:
18
Current Experience:
28  
Character #2:
@
Theodosia
Bonded:
No.
Magic:
Yes, Storm-calling at Discipuli tier.
Armor:
Yes, an iron chestplate and leg bracers.
Weapons:
No.
Current Health:
10
Current Attack:
10
Current Experience:
12
---
---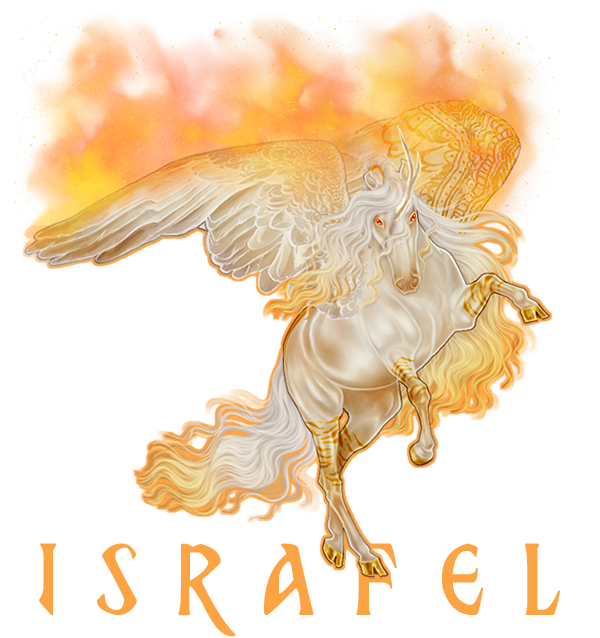 welcome to my cage, little lover


This was not the first time that Israfel stood upon this uprooted, pockmarked earth. It was not the first time that she had engaged in battle within the vast shadows of Veneror Peak, the highest peak of Novus looming in the distance to the north, and she was confident that it would not be the last. What she did not know, however, was if she would leave here the victor or the defeated.
 
'I haven't lost yet,' she thought, picking her path upon the mottled soil and rock with great care, golden hooves guiding her route with a sturdy elegance befitting her training and station, 'But there is always a first time for everything.'
 
The day was long, the twilight touches of evening beginning to stain the cerulean skies as the sun sank further beyond the horizon. A cool breeze danced within the air, curling around them upon their warped, eroded battleground. Israfel shivered but did not halt, scanning the earth and her surroundings with fire in her eyes and a wild, rueful grin upon rose-kissed lips. Already the blood was thrumming in her veins, pulse pounding in preparation for a good scrap. It had been far too long. Above her, Solaris circled lazily in the air, her uncharacteristic silence proving that even the Phoenix understood what was about to happen.
 
They had come from Delumine proper, temporarily leaving the Dawn Court behind and their assigned task of babysitting Atreus for an impromptu test of mettle and skill. Israfel knew that she would not be disappointed in fighting Theodosia; they had far too much in common. Eventually she came to a halt, golden-marked wings reaching out wide as ivory and gilt feathers fanned wide. She faced the south, Veneror Peak at her back to the north.
 
The area around them told a silent testament to the previous battles and spars waged here, the holes and hoofprints leftover in the hard soil a visible scar. Trees surrounded them on all sides, leaves shifting colors to the more vibrant oranges and yellows of fall. The terrain would not be her ally, as she had learned the last time she was here. Caution was key.
 
Twisting her neck, Israfel faced Theodosia, vermilion eyes staring hard at her temporary opponent. This was simply a necessity. There was nothing really formal about it, other than they would take a few hits at one another and go from there. As her eyes raked over Theodosia's pale perlino form and the bright red war paint that she wore, Israfel did what she could to pick out potential flaws to use for leverage, comparing their attributes to try and figure out what leverage would suit her best. It was almost remarkable, how very similar they were in build; nearly the same height, muscle and curves hugging the same places with strong legs and powerful shoulders. Israfel took a mental note to use caution when in close range of the soldier's antlers, just as she was sure Theodosia was taking into consideration with her sharp, pronged horn. Any blows to the chest would be useless given the iron breastplate that the soldier was sporting. All in all, the Warden wondered if this would be like fighting herself, and hoped to use both speed and the stocky girth of her weight to her advantage. Her grin broadened and she lifted her head, sucking in a large breath of chilly, evening air.
 
"I'm not going to go easy on you, Theo, and I expect you to do the same." Then, within her mind she called to the gliding Phoenix above. 'Solaris.' At the beckon of her name, Solaris shifted her path within the air, her colors beginning to change from the placid ivory and gold to a flaring crimson as white-hot flames overtook her robust body. She twisted in the air, a burning beacon shining in the encroaching darkness, keen lavender eyes scanning the ground below and waiting for her moment to strike.
 
Orange eyes dancing, Israfel tilted her head and braced herself for whatever first attack the soldier would make. "Let's go."
 


"Speaking."
credits
---
---
Summary:
Israfel and Theodosia have arrived at the battleground. Israfel is facing Theodosia to the south, with Veneror Peak at her back to the north. The temperature is mildy chilly given the autumn evening, and the time of day is growing evening. Israfel is waiting for Theodosia to make the first move as Solaris flies overhead.  
Attack Used:
0
Attack(s) Left:
2
Block Used:
0
Block(s) Left:
1
Item(s) Used:
LIST ANY ITEMS USED, IF ANY  
Response Deadline:
February 21st, 2019
Tags:
@
Theodosia
, @
sid
, @
inkbone
, @
Sparrow
, @
nestle
, @
aimless
---
Please Tag Israfel in all Replies!